Welcome to the latest version of our slice of internet real estate. We are so excited to finally have the latest version of andantepianoworks.com out in the world for everyone to see.
It's been a long road, well over a year in the making, more than that if you count a rough mock-up on our previous platform we considered before wisely deciding to make the big switch over to WordPress.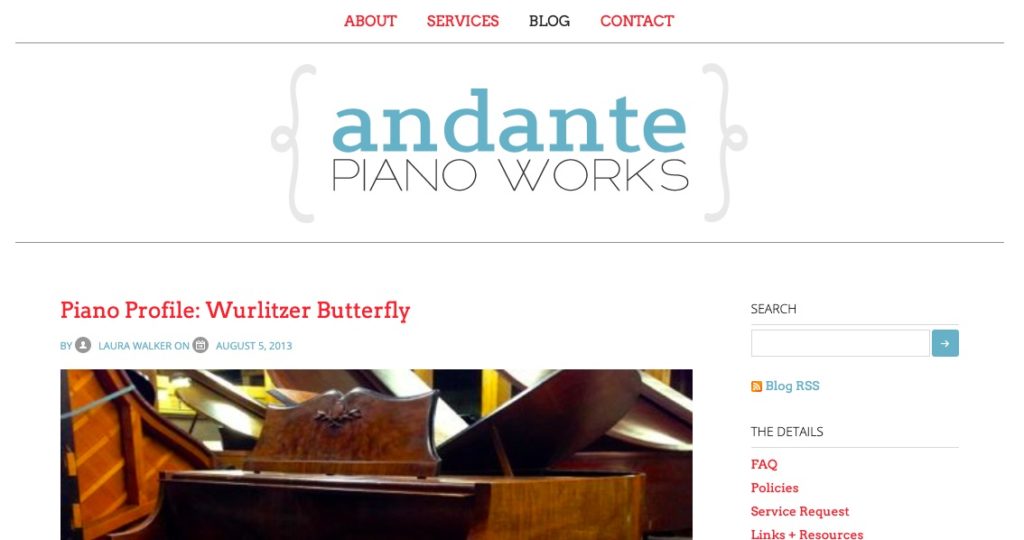 When I first started tinkering around with the idea of seriously launching my own piano service company back in 2012, I didn't quite know what I wanted or needed out of a website. I just knew that I had to have a website because an internet presence is crucial when launching a business, even in a referral-heavy industry like piano service. Luckily, I had (and still have) my amazing design studio, Sarah Moon + Co, by my side to help guide me and form the foundation of what the site still stands on today.
Our branding, logo, and color scheme have held up remarkably well over the years, a credit (again) to Sarah and her team coming up with visual elements that hold over time, resulting in a look has aged like fine wine.
But as our business grew, we realized we needed to shift the focal point of the website from our piano commentary to our piano services.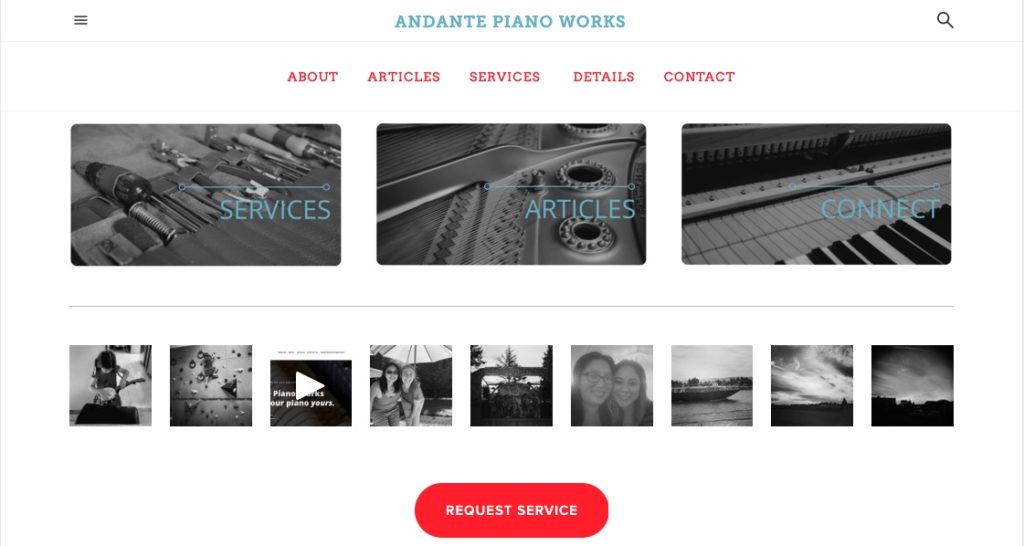 Version 2.0 held up remarkably well for seven years, again a credit to Sarah's amazing, fluid, functional design, and it was hard for me to let it go. I loved the design and it served me well; I even had multiple clients tell me that they hired me solely because they thought my website was awesome. So many elements were right on about it, it was visually appealing, easy to understand what the business is, easy to find out more about our work, and easy to request service if people decided they wanted to work with us. But, Sarah and I realized a couple years ago that as the company was growing, the website didn't quite fully represent our company, especially how we approach and find solutions for our clients and their pianos.
That brings us here to version 3.0.
We could not be more thrilled with how everything has come together. We love the freshness and amazing functionality of the design, the cohesiveness of the presentation and how it represents everything we are as a piano service company. We hope you will all love it too, and have fun exploring all of the unique service features, articles, and the community piano teacher database.
We have made our home in the beautiful Portland, Oregon and Vancouver, Washington region and love supporting our piano and music community here with our piano services and sponsorship. Our new website is simply a reflection of that love.
Enjoy.
(and don't forget to sign up for our newsletter for a quarterly roundup of our piano adventures!)