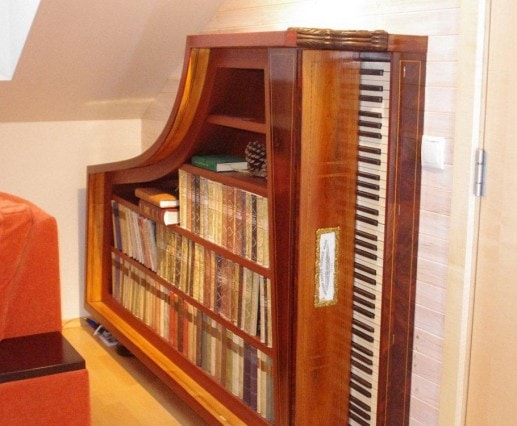 Because I am the ultimate piano nerd, one of my goals in life is to have a home full of decor made from pianos.
For a variety of reasons, there eventually comes an unfortunate time (hopefully after a century or so of love, care, and musical joy) when a piano is no longer able to serve its original purpose as a musical instrument. Perhaps it barely plays, or no longer holds a tune, or both. Regardless, while the choice to rebuild or restore the instrument is occasionally made, the more common choice exercised these days is to have the piano unceremoniously hauled off the the dump. But a third option, to salvage and repurpose as much of a piano's parts for furniture, functional decor, and art, has emerged as an increasingly popular choice. Because although some pianos can no longer help us make music, that's not to say that everything about them has lost their value or splendor.
Take the square grand, for instance. By and large, due to improvements in piano technology, these rectangular (hey, no one ever said piano designers had to describe piano shapes with geometric accuracy) models are by an largely obsolete. But their frames are ideal for repurposing into desks or dining tables, while their innards make for cool, unique decor.